Advertisement - story continues below
Almost immediately after Republican Donald Trump won the presidency, reports started rolling in about how groups of people were "scared" of the empowerment that victory gave Trump supporters.
Some in the anti-Trump camp even reported "hate crimes" that had been perpetrated by Trump supporters, but as we know now, many of those "crimes" either never happened or were not really crimes at all.
We have compiled a list of these fake crimes and incidents to show just how far the left and the mainstream media will go to discredit our new president-elect and his supporters.
Advertisement - story continues below
1. The Muslim student at the University of Louisiana Lafayette
One of the most well-known, and now infamous, "hate crime" accusations came from Louisiana, where a young Muslim woman claimed that two white males had torn off her hijab.
As we know now, that claim was entirely false, as the woman eventually admitted to Lafayette police that she had "fabricated the story," according to The Washington Post.
Advertisement - story continues below
But that didn't stop liberals from spreading the story like wildfire on social and mainstream media.
2. An alleged incident of assault on a homosexual man in California
Trump supporters were accused of beating up a gay man in Santa Monica on Election Night, but local police officers could not verify that the attack ever happened.
In fact, neither the department nor city officials had "received any information indicating this crime occurred in the City of Santa Monica," the police department posted on Facebook. Furthermore, a "check of local hospitals revealed there was no victim of any such incident admitted or treated."
Advertisement - story continues below
3. Allegations of threatening behavior toward Muslims by Trump supporters
Sarah A. Harvard, a journalist for Mic, tweeted that her sister, a Muslim, had been threatened with a knife on the campus of the University of Illinois Urbana-Champaign.
The university's police department responded that nothing of the sort had been reported to the police.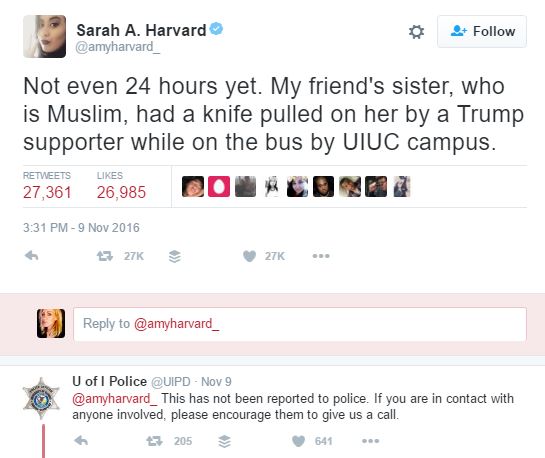 4. Alleged KKK rally in honor of Trump's victory
Some liberals claimed to have photographic evidence of a Ku Klux Klan rally held to celebrate the GOP candidate's historic win, but their "evidence" turned out to be an old photo of people carrying the United States, Gadsden and Christian flags that were billowing out in a manner that made it look like Klan robes in the grainy photo, according to Snopes.
These are just a few of the alleged "hate crimes" that have been reported in the wake of the election, and one by one we keep finding out that they were fabricated.
Meanwhile, however, liberal anti-Trump protesters are actually committing violent crimes and causing chaos in the streets of major cities across the U.S.
Trump supporters are the ones people should be afraid of? Riiiiiiight.
H/T Breitbart
Like and share on Facebook and Twitter and let us know what you think about these false "hate crimes" that have been reported after Trump's victory.